Picture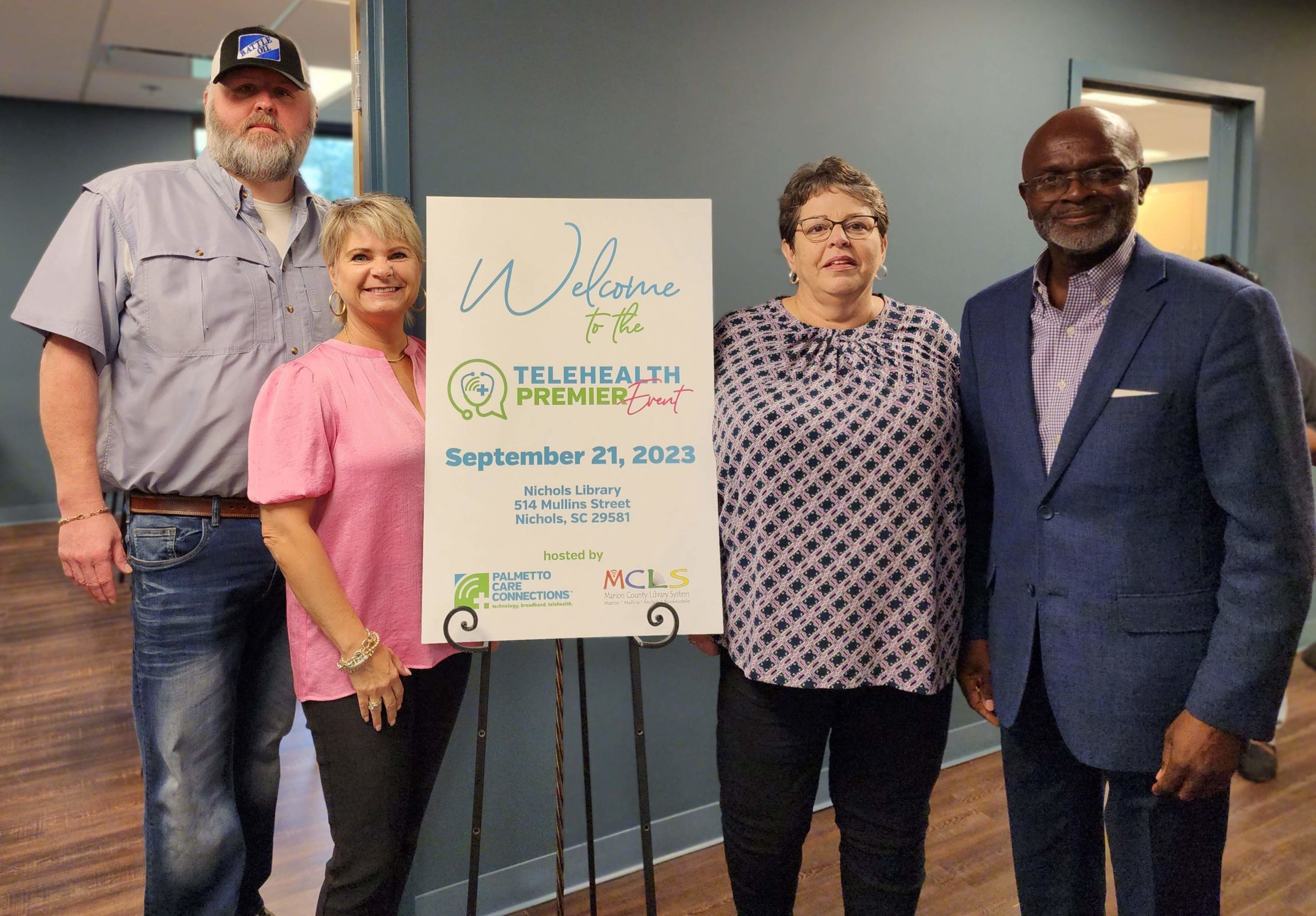 Pictured L to R: Mayor Lawson Battle, City of Nichols, Kathy Schwarting, CEO, Palmetto Care Connections, Patti Burns, Director, Marion County Library System and SC Senator Kent Williams
Nichols Branch Library To Become Ninth Provider Location in Marion County
NICHOLS, S.C. (Sept. 21, 2023) – Palmetto Care Connections (PCC), a non-profit telehealth network serving rural and underserved communities across South Carolina, and the Marion County Library System celebrated the launch of telehealth services in the Town of Nichols, a rural community in Marion County.
Under the leadership of Chief Executive Officer Kathy Schwarting, MHA, a full staff and a board of directors including health care leaders from across the state, PCC will ensure telehealth integration in the Nichols Branch Library by providing resources on telehealth platforms, reimbursement, policies and procedures, and telehealth certification. The launch of the services was announced during a premier event hosted by Palmetto Care Connections and the Marion County Library System at the Nichols Branch Library.
"We must continue to push the needle across rural South Carolina to ensure these communities have access to the highest levels of care," said Schwarting. "In coordination with the Marion County Library System and Mayor Lawson Battle of Nichols, we are providing access and equity to this underserved community. I am thrilled for PCC to be a small piece of the puzzle toward a higher quality of life for the citizens of Nichols."
The Marion County Library is a county-wide system serving a population of 35,466 through the Marion headquarters library, branches in Mullins and Nichols, and a bookmobile. The library system is affiliated with county government and the Marion County Library Board of Trustees is comprised of 7 members, each representing a County Council district. The Marion County Library System connects people, information, and ideas to encourage life-long literacy, learning, and leisure pursuits for a thriving community.
"In a rural community like Nichols, access to primary healthcare could not be more paramount," said S.C. Sen. Kent Williams, who represents Nichols in the state Senate. "I am proud of the partnership that has emerged between the Marion County Library System and Palmetto Care Connections. With the help of these organizations, the Town of Nichols is putting its residents needs first, while being at the forefront of healthcare innovation."
The Nichols Branch Library launch comes on the heels of Telehealth Week in South Carolina and will not be PCC's first foray in Marion County. With nine existing locations outfitted with PCC's telehealth services, including the Marion County Library, the county is being provided the highest quality of service.
"Since 1970, the Marion County Library System has found itself at the forefront of service to the Nichols community," said Patti Burns, library director. "This announcement is one more example of that longstanding service. Working with PCC and the leadership of the Town of Nichols, like Mayor Battle, the vibrant community will be supported with vital healthcare resources for years to come."
=Established in 2010, Palmetto Care Connections (PCC) is a non-profit organization that brings technology, broadband, and telehealth solutions to health care providers in rural and underserved areas in South Carolina. PCC hosts the Annual Telehealth Summit of South Carolina presenting state and national best practices and trends, as well as providing networking connections for health care, technology and broadband professionals.
###