NEWS RELEASE
Written by: Nicole Gard, Director of Communications, PCC
LAKE VIEW, SC – Residents of Dillon County recently completed a one-day digital literacy learning program conducted by Palmetto Care Connections (PCC), a statewide non-profit organization providing technology, broadband, and telehealth solutions to South Carolinians in rural and underserved communities.
The program was part of a $35,000 Digital Education grant awarded from Spectrum to increase digital inclusion and expand telehealth in rural areas of South Carolina. With this grant, seniors in four rural counties will receive digital inclusion training, digital devices, and assistance with affordable internet service.
"I loved going back home and teaching some of our seniors how to safely use technology and the internet. This training provides them skills and a level of confidence that they did not have. Don't be mistaken though, as we learned as much from them as they learned from us, and we loved every minute of it! Now, they are connected to a whole new world of opportunities!" said Lake View native and PCC Chief Executive Office Kathy Schwarting.
"We applaud Palmetto Care Connections for their broadband educations initiatives and for helping us support efforts that promote digital literacy in rural South Carolina counties," said Rahman Khan, Vice President of Community Impact for Charter Communications, Inc. "Through this partnership with PCC, the Spectrum Digital Education program is able to bring essential resources to those in need, and we look forward to working with them on this transformative project."
All participants in PCC's Digital Literacy Training program learn the basic skills needed to use a computer and internet in daily life, health, and education.
"There are so ma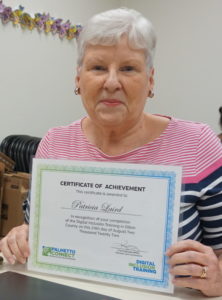 ny people in our community that don't have access to internet, and don't have devices to use for telehealth," said Pat Laird of Lake View. "This is just a great opportunity for them, and they've learned a lot of information about how to get other services, like reduced price internet and Wi-Fi. I think it's just a wonderful opportunity for any community to have this class."
At the end of the Lake View program, 24 participants learned how to use their Chromebooks for safe internet use; including sending and receiving photos and emails, using the virtual face-to-face app 'Zoom' to connect with friends and family, as well as connecting with their doctors for virtual telehealth appointments.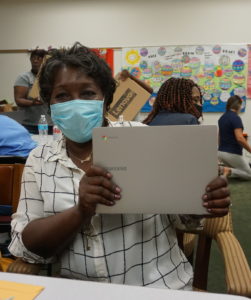 "I feel great, and I really enjoyed this class! I wanted to take this class to learn, and I learned a lot that I didn't know before I came in," said Lake View resident Gerlene Brigman. "Everyone was very nice and helpful; I would absolutely recommend this class."
"I have no technology at my house, and this could be a huge help," said Dillon County Lakeview Branch Librarian Mertis Barnett. "I'd like to be able to Zoom my kids more. If they don't come for holidays, I only see them about once or twice a month. I think they'll be surprised when they find out I took this class and now have my own Chromebook."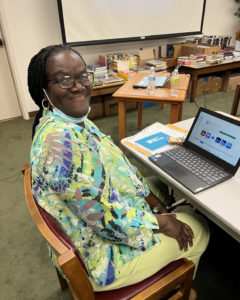 Josephine Gilchrist took to her Facebook, saying "Thanks to the awesome team on showing us seniors how to surf the web in a safe manner…that was very interesting. Yes, I learned something new, plus we all received a brand-new Chromebook laptop computer too!"
About Palmetto Care Connections
Established in 2010, PCC is a non-profit organization that provides technology, broadband, and telehealth solutions to health care providers in rural and underserved areas in South Carolina. PCC hosts the Annual Telehealth Summit of South Carolina presenting state and national best practices and trends, as well as providing networking connections for health care, technology, and broadband