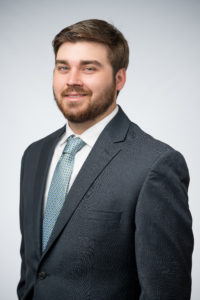 BAMBERG, SC—Palmetto Care Connections (PCC) Chief Executive Officer Kathy Schwarting announces that Ethan Kemp has joined PCC as technology analyst.
In his position, Kemp assists in maintaining the inventory and database for South Carolina's Health Care Broadband Consortium led by PCC. The consortium helps eligible health care providers receive significant savings on broadband, internet and telehealth equipment through federal subsidies. Kemp also assists providers in establishing telehealth programs by installing, configuring and maintaining telehealth equipment in medical practices.
Kemp began working at PCC as a technology analyst intern in the summer of 2017 while he attended the University of South Carolina (USC) in Columbia. He completed his Bachelor of Science degree with double majors in business management and marketing at USC in May 2018. He is currently studying health administration at USC's Arnold School of Public Health and plans to graduate with a Master of Health Administration degree in May 2020.
"Ethan has been interested in rural health care and technology for several years," said Schwarting. "Growing up in Bamberg, Ethan has experienced the benefits and challenges of living and working in a rural area first- hand. His education and experience are very valuable as Palmetto Care Connections continues to grow telemedicine throughout the rural and underserved areas of our state. We are extremely fortunate to have him on the team."
Kemp's previous experience includes public works intern at Bamberg Board of Public Works in Bamberg, S.C. and production intern at Hughes Farms in Clear Pond, S.C.
He is a South Carolina Life Scholarship recipient, a Dean's List student and a Phi Sigma Pi National Honor Fraternity nominee.
Established in 2010, PCC is a non-profit organization that provides technology, broadband, and telehealth support services to health care providers in rural and underserved areas in S.C. PCC leads South Carolina's broadband consortium which facilitates broadband connections throughout the state. PCC co-chairs the South Carolina Telehealth Alliance, along with the Medical University of South Carolina, partnering with health care organizations and providers to improve health care access and delivery for all South Carolinians.
Contact:
Kathy Rhoad
Director of Public Relations & Program Development 803-707-0131 cell
###