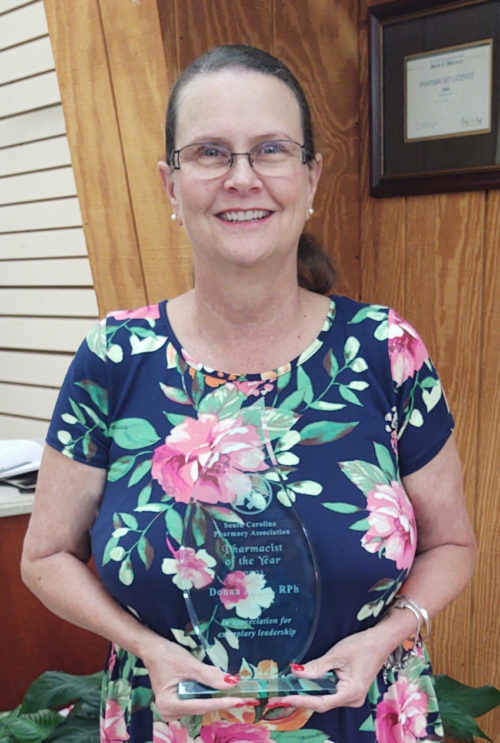 Ehrhardt, S.C.–Ehrhardt Pharmacy owner and pharmacist Donna Avant, R.Ph., was recently named 2021 Pharmacist of the Year by the South Carolina Pharmacy Association in appreciation for exemplary leadership.
"Donna Avant is truly an extraordinary pharmacist," said Kathy Schwarting, CEO of Palmetto Care Connections (PCC), a non-profit telehealth network headquartered in Bamberg, S.C. "Donna consistently goes above and beyond to serve the health care needs of Ehrhardt and the surrounding communities not only with prescriptions, but health screenings, chronic disease education and outreach."
"In 2020, Ehrhardt Pharmacy partnered with PCC to offer telehealth services for their customers," said Schwarting. "Bamberg Family Practice is currently providing telehealth visits to their patients at Ehrhardt Pharmacy, and Low Country Health Care System as well as S.C. Department of Mental Health plan to begin telehealth services at Ehrhardt Pharmacy soon. The telehealth program is just one example of Donna's outside of the box thinking and dedication to helping her customers get the health care services they need. On behalf of the PCC Board of Directors and the PCC team, we congratulate Donna on the tremendous honor of being named South Carolina Pharmacist of the Year."
A graduate of the University of South Carolina College of Pharmacy with a Bachelor of Science degree in Pharmacy, Avant has worked as a pharmacist for more than thirty-three years. Her work history includes pharmacist for Eckerd Drug in Walterboro, S.C.; Wal-Mart Pharmacy, filling where needed at various S.C. locations; Winn Dixie Pharmacy in Hampton, S.C., serving as district manager for more than 35 stores in three states; and pharmacist in charge at Wal-Mart Pharmacy in Barnwell, S.C.
In November of 2013 Avant became the sole owner and operator of Ehrhardt Pharmacy, LLC, a rural independent pharmacy in Ehrhardt, S.C. The pharmacy offers soda fountain with hand-dipped ice cream and home-made milkshakes, gift shoppe, home medical supplies, full-service pharmacy, and drive-thru. In addition, Donna and her staff provide a myriad of community services including: Summer children's reading/crafting/lunch programs; HIV screenings; immunizations; blood pressure checks; hypertension counseling; free community vitamin program; and lifestyle change classes for individuals with diabetes and pre-diabetes.
For more information about telehealth at Ehrhardt Pharmacy contact the pharmacy staff at 803-267-2121.
Established in 2010, PCC is a non-profit organization that provides technology, broadband, and telehealth support services to health care providers in rural and underserved areas in S.C. PCC received the National Cooperative of Health Network Association's 2021 Outstanding Health Network of the Year award.
PCC co-chairs the South Carolina Telehealth Alliance, along with the Medical University of South Carolina, serving as an advocate for rural providers and partnering with organizations to improve health care access and delivery for all South Carolinians.